The Division of Student Affairs strives to create a seamless learning environment, where what is learned in the classroom is experienced outside the classroom and connections are made across campus that deepen learning. The Division has developed the following initiatives to build democratic partnerships across campus.
Academic/Student Affairs Mini-Grant
Funded by the Division of Student Affairs, the Engagement Mini-Grant Program is designed to: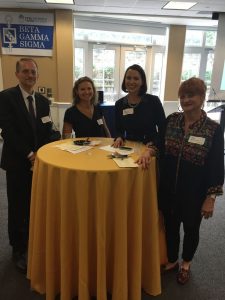 Foster collaborations between members of Academic Affairs and Student Affairs by providing seed money to develop new or enhance existing innovative student engagement programs, projects, or experiences.
Deepen student learning and students' holistic development by generating student engagement opportunities that are linked to the College's mission and/or core beliefs and focused on complementing and enhancing the learning that occurs both inside and outside the classroom. Priority will be given to those that connect to one or more of the College's Signature Experiences.
Build our College community by establishing new (and strengthening existing) Academic Affairs and Student Affairs democratic partnerships, where faculty and administrators are co-educators and co-creators of student learning.
Previous recipients have been programs such as Widening Horizons, the TCNJ Archaeolympics 2017, and the TCNJ Service Council. Click here for more examples.
Co-Curricular Transcript and Lion's Gate
Lion's Gate is our online gateway to student engagement at TCNJ. It serves as the one-stop-shop to centralize, organize, and increase student involvement opportunities in and beyond the classroom. Amongst many other features the website offers, Lion's Gate allows students the opportunity to create an Engagement Transcript that lists all of their past and present internships and jobs, student organization involvement, leadership and membership positions held, and service hours completed throughout their time at TCNJ. The transcript provides a printable record of each student's involvement history and keeps everything in one place so students can easily manage their memberships, interests, and service hours and shares the transcript with employers and graduate school admissions committees.
Academic Affairs and Student Affairs Networking Events
In order to foster collaborations and democratic partnerships with members from Academic Affairs and Student Affairs, the Division of Student Affairs and the Division of Academic Affairs co-host networking events over lunch each semester. Participants RSVP by providing background information on their ideas to deepen student learning and students' holistic development in and beyond the classroom and arrive to the networking event with suggested individuals to meet based on shared ideas, interests, and/or goals. To learn more about these networking events, please contact Liz Bapasola, Assistant Vice President for Student Affairs, at bapasola@tcnj.edu.