The College of New Jersey encourages students to take action regarding issues or areas in which they hold concern, and activism provides a way to do this. As an activist, one works to uphold change in an area that he, she, or they is passionate about, pulling from a variety of areas including but not limited to race issues, economic issues, political issues, gender and sexuality issues, women's issues, and environmental issues. These issues are what drives the need for change. Activism is important! Get involved!
Freedom of Expression
A Student Guide to Freedom of Expression was created to assist students at The College of New Jersey while navigating policies and issues around freedom of expression, staging events, and engaging in meaningful dialogue while preserving the rights of others. It is important to note that this guide does not supersede or replace any existing policies on this campus and students should take care to review any referenced policies in their entirety.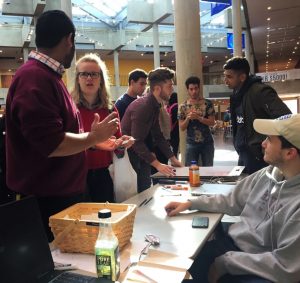 » View A Student Guide to Freedom of Expression at TCNJ
» View the Use of Campus Property Policy
» View the Student Activism Brochure
What is Free Speech?
Free Speech is a constitutional right and we encourage you to learn more about the benefits of free speech in an educational environment.
Positive Outcomes
Campus activists are individuals who are developing to understand the "injustices of the world, the tentativeness of authority, and striving to individualize their moral judgement" (Hunter, 1988). Student activism is associated with student involvement, encouraging the development of a number of important skills including critical thinking, interpersonal skills, public speaking, increased contact with faculty members, administrators, and state representatives. Students best learn when they are passionate about what they are learning and engaged in constructing their knowledge rather than only receiving it. Learning increases as the student becomes more invested in their subject. Passion regarding their subject means the quality of involvement will be greater.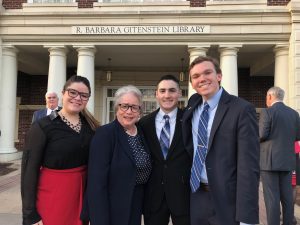 Get Involved Off Campus!
One may also get involved off campus and in the surrounding community! Provided are the links of activist groups in and out of the community.
View list of off campus organizations
New Jersey Citizen Action
A statewide organization aimed at promoting social, racial, and economic justice. Advocates for the idea that the government should respond to the needs of the people through legislation and electoral campaigns. The goal is to make a difference in people's lives. Contact the Central Jersey Office. Phone: 732-246-4772
New Jersey Alliance for Immigrant Justice
A group of New Jersey organizations dedicated to preserving and advocated for immigrant rights while promoting immigrant participating in daily activities at the state wide level. Email: info@njimmigrantjustice.org
GLSEN
Stands for Gay, Lesbian, and Straight Education Network. In NJ, this organization seeks to promote safety in and among schools for all sexual orientations. Email: cnj@njglsen.org
AmeriCorps
An organization with intent to give back to the community, built on the idea of community service. It provides a chance to apply skills and learn new techniques in meeting the needs of the community. http://nationalservice.gov
UNICEF
An organization dealing with children's rights around the world http://unicef.org
NAACP
The National Association for the Advancement of Colored People is an organization dedicated to shedding the lines of race and advocating for equality among all individuals no matter one's skin color. Phone: (877)-NAACP-98
Planned Parenthood
The leading National Advocate for sexual and reproductive health and education. http://plannedparenthood.org
The Student Advocacy Advisory Team
Under the leadership of student affairs, the Student Advocacy Advisory Team will be responsible for coordinating the appropriate level of response and managing demonstrations and serve as the primary liaisons between administrators, police, and students. Click here to access the list of Student Advocacy Advisory Team members.